BC Seniors Week Profile: Brenda, 69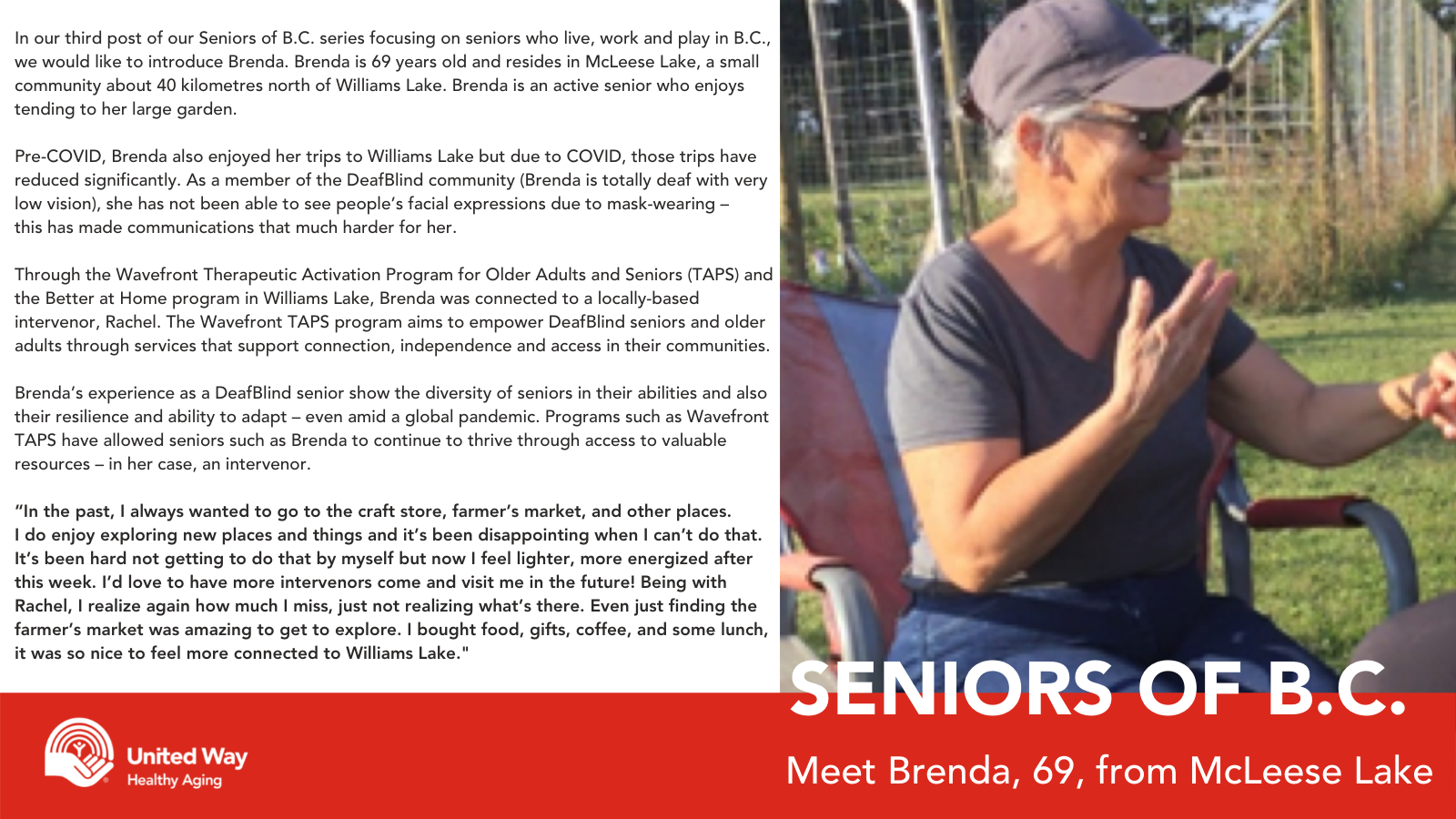 In our third post of our Seniors of B.C. series focusing on seniors who live, work and play in B.C., we would like to introduce Brenda. Brenda is 69 years old and resides with her husband in McLeese Lake, a small community about 40 kilometres north of Williams Lake. Brenda is an active senior who enjoys tending to her large garden. Pre-COVID, Brenda also enjoyed her trips to Williams Lake but due to COVID, those trips have reduced significantly. As a member of the DeafBlind community (Brenda is totally deaf with very low vision), she has not been able to see people's facial expressions due to mask-wearing – this has made communications that much harder for her.
Through the Wavefront Centre for Communication Accessibility Therapeutic Activation Program for Older Adults and Seniors (TAPS) and the Better at Home program in Williams Lake, Brenda was connected to a locally-based intervenor, Rachel. The Wavefront TAPS program aims to empower DeafBlind seniors and older adults through services that support connection, independence and access in their communities.
Brenda's experience as a DeafBlind senior show the diversity of seniors in their abilities and also their resilience and ability to adapt even amid a global pandemic. Programs such as Wavefront TAPS have allowed seniors such as Brenda to continue to thrive through access to valuable resources.
"In the past, I always wanted to go to the craft store, farmer's market, and other places. I do enjoy exploring new places and things and it's been disappointing when I can't do that. It's been hard not getting to do that by myself but now I feel lighter, more energized after this week. I'd love to have more intervenors come and visit me in the future! Being with Rachel, I realize again how much I miss, just not realizing what's there. Even just finding the farmer's market was amazing to get to explore. I bought food, gifts, coffee, and some lunch, it was so nice to feel more connected to Williams Lake."
To learn more about United Way Healthy Aging, including the various programs that help older adults in B.C. be Active, Connected and Engaged, please visit https://www.uwlm.ca/your-impact/healthyaging/
Find out more about Wavefront's TAPS which aims to empower DeafBlind seniors and older adults through services that support connection, independence and access in their communities here: https://www.wavefrontcentre.ca/services/taps/
By

United Way of the Lower Mainland