BC Seniors Week Profile: Elizabeth, 71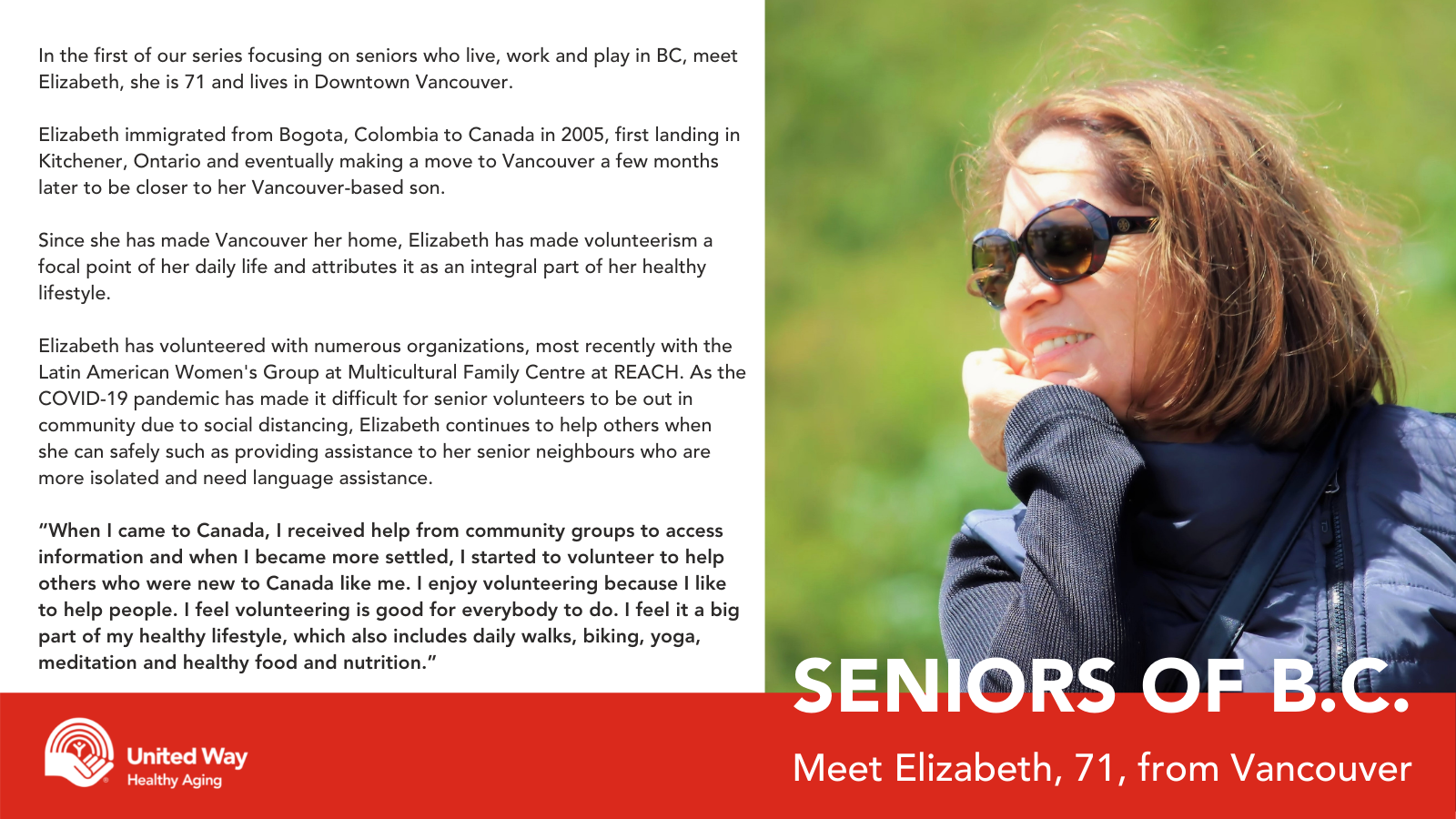 In the first of our Seniors of B.C. series focusing on seniors who live, work and play in B.C., meet Elizabeth, she is 71 and lives in Downtown Vancouver.
Elizabeth immigrated from Bogota, Colombia to Canada in 2005, first landing in Kitchener, Ontario and eventually making a move to Vancouver a few months later to be closer to her Vancouver-based son.
Since she has made Vancouver her home, Elizabeth has made volunteerism a focal point of her daily life and attributes it as an integral part of her healthy lifestyle.
Elizabeth has volunteered with numerous organizations, most recently with the Latin American Women's Group at Multicultural Family Centre at REACH. As the COVID-19 pandemic has made it difficult for senior volunteers to be out in community due to social distancing, Elizabeth continues to help others when she can safely such as providing assistance to her senior neighbours who are more isolated and need language assistance.
"When I came to Canada, I received help from community groups to access information and when I became more settled, I started to volunteer to help others who were new to Canada like me. I enjoy volunteering because I like to help people. I feel volunteering is good for everybody to do. I feel it a big part of my healthy lifestyle, which also includes daily walks, biking, yoga, meditation and healthy food and nutrition."
To learn more about United Way Healthy Aging, including the various programs that help older adults in B.C. be Active, Connected and Engaged, please visit https://www.uwlm.ca/your-impact/healthyaging/
By

United Way of the Lower Mainland