Expanded supports help seniors to continue living independently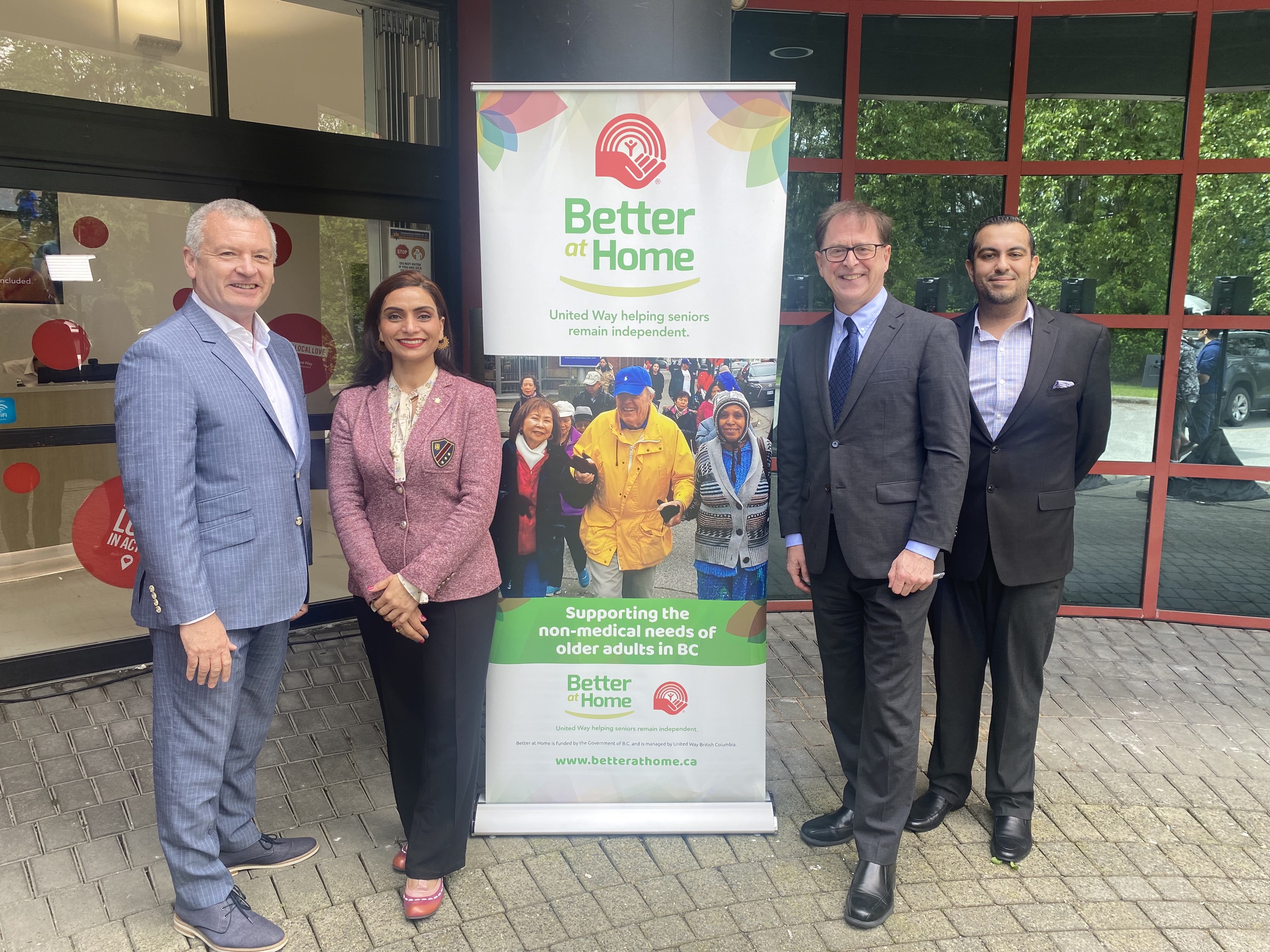 More seniors around the province will have improved support to remain independent and living in their own homes, as the Province strengthens the United Way British Columbia's Better at Home, bc211 and community-based programs.
"We know seniors want to be supported to live independently in their communities for as long as possible," said Adrian Dix, Minister of Health. "That's why from 2018 to 2022, our government has significantly expanded the funding for this program to $132 million – up from $36 million between 2012 and 2017. Today's investment demonstrates our commitment to caring for and supporting our seniors so they can continue living in their own homes, close to their families and friends."
The Province is investing $70 million over two years to expand the Better at Home program to nine more communities, continue the bc211 program and continue community-based projects that reach people who might not otherwise have access to community services.
"The day-to-day type of supports offered through the Better at Home program are key to allowing seniors to age in their own homes and in their own communities," said Isobel Mackenzie, B.C.'s seniors advocate. "These vital services provide seniors with the help they need and give family members peace of mind."
More than 90 Better at Home programs serve more than 260 communities through provincial funding for the United Way British Columbia. From April 1, 2021, to March 31, 2022, the program delivered 255,082 services to 12,888 seniors throughout British Columbia.
"We are looking forward to continuing to work with the Province of British Columbia and our partners in the community-based seniors services' sector in supporting older adults to remain active, connected and engaged in their communities, and thrive and live dignified lives in their own homes," said Michael McKnight, president and CEO, United Way British Columbia. "We look forward to strengthening vital connections across diverse communities in our province."
Offered in more than 150 languages, bc211 is available 24 hours a day and connects people to more than 15,500 free social supports, services and community programs throughout the province. Through bc211, seniors can find information about social and recreation programs, transportation options and meal programs to help them stay active and connected in their community.
"Everyone should have the opportunity and support to age at home and remain active in their community for as long as possible," said Harwinder Sandhu, Parliamentary Secretary for Seniors' Services and Long-term Care. "Expanding the Better at Home supports through United Way means more seniors around the province can get help with the non-medical tasks, such as grocery shopping, minor home repairs, yard work, transportation to appointments and light housekeeping. Through my work as a community nurse, I have seen first-hand the benefits of these community-based seniors' services in reducing the sense of isolation for some seniors and helping most live safe and fulfilled lives in their homes."
Funding will also continue community-based projects for seniors who need extra help to access supports, including the therapeutic activation program for seniors, social prescribing program, family and friend caregiver support program, and the navigation and peer support program. These demonstration projects will help develop more services and meet the changing needs of seniors.
To meet growing demand, government has invested approximately $2 billion over the past five years to expand and improve quality care for seniors in British Columbia, including investments in primary care, home health, long-term care and assisted living.
Learn More:
To learn about the Better at Home program, visit: http://betterathome.ca/
Seniors can apply for services by contacting the Better at Home Program Provincial Office at 604 268-1312, or emailing: info@betterathome.ca
Or by contacting their local community organization: http://betterathome.ca/organization-directory/
A backgrounder follows.
Backgrounders
Information about Better at Home
New or expanded Better at Home programming include the following communities:
Bella Bella (Northern Health)
Dease Lake (Northern Health)
Horsefly (Northern Health)
Hudson Hope (Northern Health)
Lasqueti Island (Island Health)
Lillooet (Interior Health)
Lytton (Interior Health)
Thetis Island (Island Health)
Usk (Northern Health)
More than 12,500 people use Better at Home services each year.
Seniors living at home in a community that has a Better at Home program are eligible to apply.
The program is managed by the United Way British Columbia's healthy aging initiative.
Since 2012, government has invested in United Way to expand and operate the Better at Home program:
$5 million in 2012-13
$2 million in 2013-14
$4 million in 2014-15
$5 million in 2015-16
$10 million in 2016-17
$10 million in 2017-18
$6.6 million in 2018-19
$55.4 million in 2019-20
$70 million in 2022-23