Surveillance Report on Falls Among Older Adults in Canada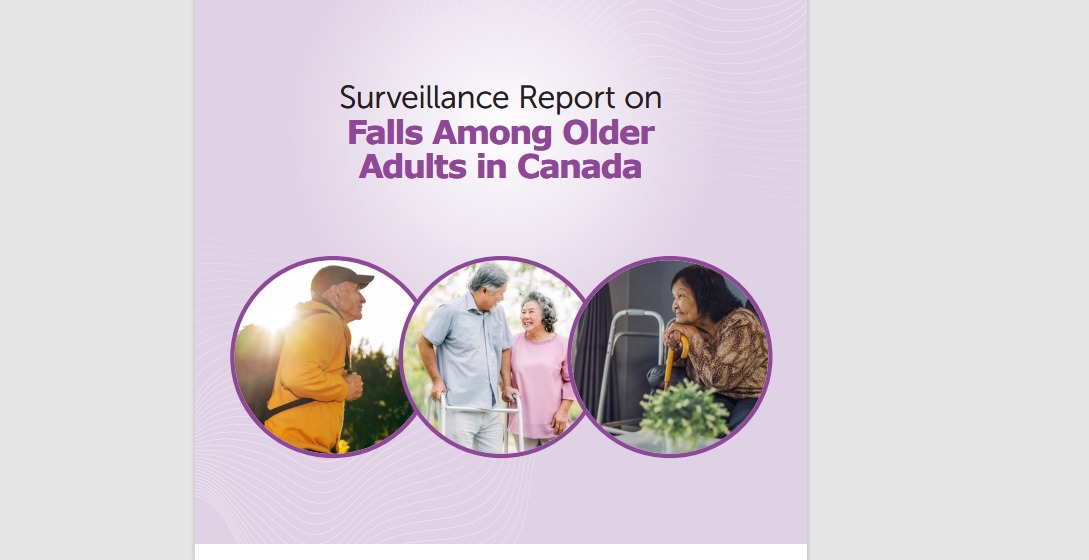 Objective
This report provides updates to the national-level data in the Seniors' Falls in Canada Second Report on the nature, severity, and burden of falls among people aged 65 or older, and describes changes over time.
Background
Falls among older adults are a public health concern worldwide. According to the World Health Organization, about a third of older adults fall each year. The percentage ranges from 32% to 42% for those 70 years or older.
In Canada, falls are the leading cause of injury-related hospitalizations and injury deaths among people aged 65 or older. Injuries from falls reduce older adults' quality of life, increase caregiver demands, and precipitate admissions into long-term care. The cost of treating fall-related injuries is high. As the baby boom cohort ages, by 2040 older adults are projected to make up close to one-fourth of Canada's population. The pace of growth of the group aged 85 or older is expected to be particularly steep. Therefore, it is essential to monitor trends and burden of falls among Canadian older adults.
Data sources
The data are from four sources: 1) self-reported results from Statistics Canada's Canadian Community Health Survey (CCHS) for 2017-2018; 2) hospitalization statistics from the Canadian Institute for Health Information's (CIHI) Discharge Abstract Database for 2008/2009 to 2019/2020; 3) emergency department (ED) visit statistics from CIHI's National Ambulatory Care Reporting System for 2010/2011 to 2019/2020; and 4) mortality data from Statistics Canada's Canadian Vital Statistics– Death Database for 2001 to 2019.
Key findings
In 2017-2018, 5.8% of individuals living in a household residence aged 65 or older reported that they had been injured in a fall in the past 12 months (CCHS data). The prevalence of fall-related injuries was higher among older women than men, and higher among those aged 80 or older compared with 65- to 79-year-olds. A majority (61%) of falls occurred while walking. Thirty-nine percent of injuries were fractures. Seventy percent of older adults who suffered a fall-related injury sought medical attention, among whom 72% received ED treatment.
According to hospitalization data, from 2008/2009 to 2019/2020, the number of fall-related hospitalizations (FRHs) of older adults increased 47%. However, crude and age-standardized FRH rates were relatively stable, at about 15 per 1,000 people. Rates rose with age and were higher for women than men. Approximately 52% of falls resulting in hospitalization occurred in a household residence and 17% in a residential care facility. The average length of stay for FRHs was 4 to 5 days longer than the average for all-cause hospitalizations. Patients hospitalised from a fall involving hip fracture stayed in hospital about 3 days longer than those without hip fracture. In 2019/2020, 34% of fall-related hospitalizations involved a hip fracture. The percentage involving a hip fracture was higher among older adults who lived in a residential care facility (49%) than among those who lived in a household residence (31%).
Combined ED data for Ontario and Alberta show that crude and age-standardized rates of fall-related ED visits by older adults increased between 2010/2011 and 2019/2020 (from 58 to 64 per 1,000 people). Fall-related ED visit rates rose with age, and women had higher rates than men.
From 2001 to 2019, crude and age-standardized mortality rates due to falls increased among older adults (crude rate was 85 per 100,000 people in 2019), and were higher at successively older ages, with a significant increase at age 90+. Although the number of women who died due to a fall was higher, fall-related age-standardized mortality rates were higher among men.
Conclusion
Falls among older adults continue to be a serious public health issue in Canada. ED visit and mortality rates show upward trends, and although hospitalization rates appear stable, the number of Canadians aged 65 or older requiring hospital admission for fall-related injuries is growing. Falls and fall-related injuries among older adults are preventable. Future prevention efforts may target those most at risk: women, those aged 80 or older, and older people who live alone or have low income. Multi-faceted prevention strategies will be important to reduce the prevalence of fall-related injuries and deaths in Canada's aging population.
By

Subject Area

Mental Health and Wellness
Safety, Security, Finances, & Personal Planning
Physical Activity
Information, Referral, & Advocacy
Home Support
Education, Recreation, & Arts
Caregiving & Caregiver Support

Audience

Service Providers (Non-profits, Community Organizations, Local government)
Government
Health Authorities
Caregivers, Seniors & Volunteers
Academics