Webinar Recording: UNDRIP & You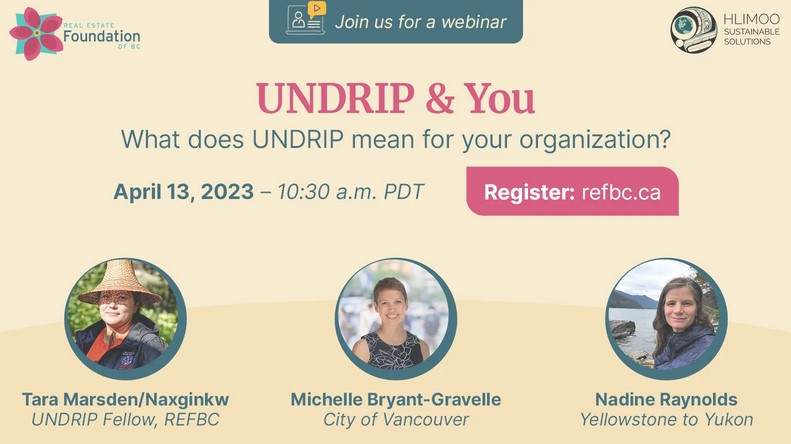 The governments of Canada and BC have adopted the United Nations Declaration on the Rights of Indigenous Peoples as their framework for reconciliation. But what does this mean for your organization and its work?
Nonprofits, foundations, and local governments have important roles to play in advancing UNDRIP. Watch this recorded webinar to hear from organizations on journeys of learning and action to respect Indigenous rights.
Join the conversation: #UNDRIPandYOU
Speakers
Tara Marsden/Naxginkw — Fellow, UNDRIP, Real Estate Foundation of BC
Michelle Bryant-Gravelle — Senior Director, Indigenous Relations, City of Vancouver
Nadine Raynolds — Manager, Communities and Conservation, Yellowstone to Yukon Conservation Initiative
Welcome: Mavis Underwood — Governor, Real Estate Foundation of BC
Moderator: Sherry Yano — Director, Grants and Community Engagement, Real Estate Foundation of BC
Bios
Tara Marsden/Naxginkw, of the Gitanyow (Gitksan) people, is working in partnership with the Real Estate Foundation of BC to advance the United Nations Declaration on the Rights of Indigenous Peoples across what is now known as BC. A respected Indigenous sustainability, reconciliation, and governance consultant, Tara previously worked with the Healthy Watersheds Initiative as Senior Indigenous Advisor. She is the sole proprietor of Hlimoo Sustainable Solutions, an Indigenous-owned consulting business aimed at operationalizing free, prior and informed consent for Indigenous peoples, one of the pillars of the UN Declaration.
Michelle Bryant-Gravelle is an experienced leadership coach, corporate professional, and educator with a demonstrated history of successfully bridging gaps between industry and Indigenous communities. She joined the City of Vancouver in September 2022 as the Senior Director, Indigenous Relations from her role as Corporate Affairs Manager at Trigon Pacific Terminal in Prince Rupert, where she had worked since 2011. She previously was a teacher and vice principal for 10 years. Michelle has been on many Boards, including serving as the first Indigenous woman President of the Prince Rupert and District Chamber of Commerce. Michelle currently is the Vice President of the Women's Leadership Network and an elected Trustee for the Lax Kw'alaams Settlement Trust. Michelle is from the Ts'msyen Nation, from the Nine Allied Tribes of Lax Kw'alaams.
Throughout her career and volunteer work, Nadine Raynolds has led a variety of environmental and social initiatives — from creative community-based projects to national environmental education and advocacy programs. Nadine has been an organizer, educator, youth mentor, social science researcher, and local government official, and is now a Manager with the Communities & Conservation team at Y2Y — the Yellowstone to Yukon Conservation Initiative. Based on the shores of Slocan Lake, Nadine works with local, provincial, and Indigenous governments and communities to achieve the vision of people and wildlife thriving together across this vast geography. Nadine loves to learn and is currently exploring ethical space, nurturing responsible recreation, and upholding Indigenous-led conservation.
Mavis Underwood is the Chair of the Indigenous Leaders Advisory Circle of the Healthy Watersheds Initiative and serves on the Board of Governors of the Real Estate Foundation of BC. Mavis grew up in the Tsawout community in Saanich Nation, where she has served as an elected member of the band council. She began her career as a certified teacher and has taught First Nations studies, learning assistance, counselling, and social studies.
As the Director of Grants and Community Engagement for the Real Estate Foundation of BC, Sherry Yano leads the grants team, directs grantmaking and community engagement strategies, and works to strengthen relationships with partners in the community, government, education, professional, and non-profit sectors.
Watch Here
---
Watch Here
By

Real Estate Foundation of BC

Subject Area

Indigenous Peoples and Indigenous Relations
Intercultural/Interfaith/Interlingual; Immigrants, Refugees, and Other Newcomers
General Health and Wellness
Information, Referral, & Advocacy
Leadership, Training, Coaching, Mentoring
Organizational Development
Referral and Systems Navigation

Audience

Academics
Government (Politicians, Policy Makers) and Health Authorities
Service Providers (Non-profits, Community Organizations, Local government)
Government
Health Authorities

Category

Advocacy
Policy, Planning, & Procedures
Impact Stories
First Nations/Aboriginal Communities
Events & Webinars
Recorded webinar