Family Caregivers of British Columbia - Greater Victoria Caregiver Support Program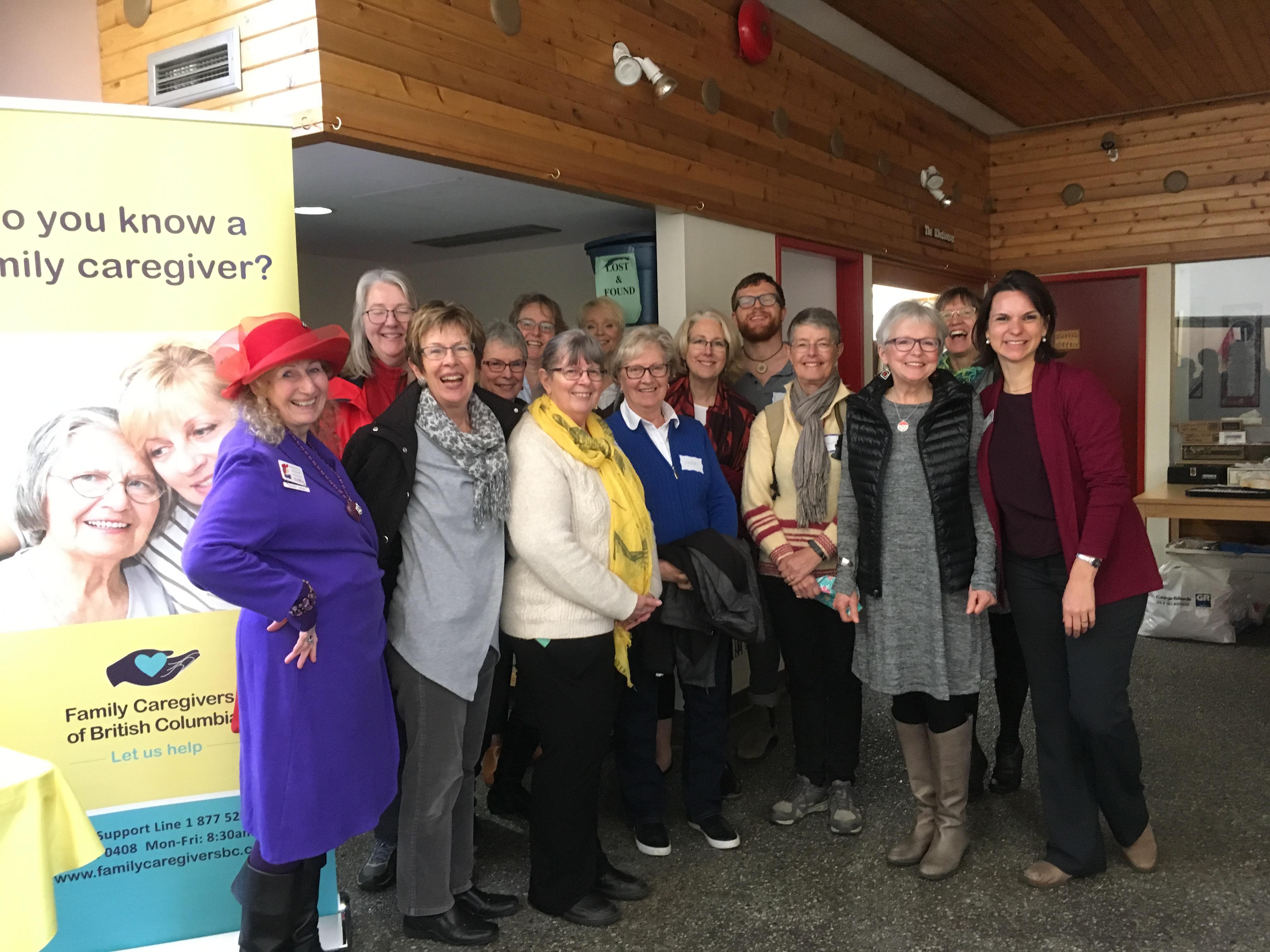 "I care about a caregiver, and I am not alone" says Jim LaMorte, a Family Caregiver of BC community member that created a Circle of Support for his friend and family caregiver, Art. 
Family Caregivers of BC's (FCBC) Greater Victoria Caregiver Support Program (GVCSP) is a holistic caregiver support program designed to meet the needs of the Greater Victoria family/friend caregiver population which is estimated to be over 100,000. 
Founded 30 years ago and the first in Canada, the program supports family and friend caregivers' ability to access and navigate community resources and enhances their personal support networks to gain skills, knowledge and confidence in their caregiving roles. 
The program goal is to facilitate innovative activities which create opportunities for meaningful connection among caregivers in an environment of relief physically, emotionally, psychologically, socially, and spiritually. 
The Greater Victoria Caregiver Support Program services provide: 
A comprehensive intake process for caregivers to identify their individual needs. 

Ongoing emotional and practical support. 

Peer-support groups and personal network-building. 

Connections to the appropriate resources, as well as community agencies and services. 
Community presentations. 

A Community of Practice for local caregiver support group facilitators to enhance the quality and mutual support in the caregiver support groups of Greater Victoria. 
Community capacity around caregiving is enhanced by the Caregiver Ambassador Program. This program trains volunteer caregivers via community events to educate and increase awareness about caregiving and the support services available through FCBC's programs. Additionally, the program coordinates the Community of Practice for local caregiver support group facilitators. Monthly meetings are facilitated with FCBC volunteer facilitators who share insights about caregiver issues, wisdom about navigating the health care system, caregiver resources and services, as well as tips for group facilitation. 
The positive impact of this program is seen in evaluation results from FCBC. These results show that 89% of caregivers feel more confident in their caregiving role, 85% felt that the person they were caring for had an improved quality of life, and 68% said they made a major change as a result of participating. FCBC has continued to strengthen community partnerships, and through collaboration has increased referrals from hospitals, physician's offices, clinics, and community-based non-profits. 
Some of the strengths and challenges of the program revolve around what has been recognized and responded to over its thirty years of operation. The profile of care recipients who are supported by family caregivers in the community are now as complex as those traditionally found in acute and residential care. Family caregivers are often expected by the health care team to assume a role for which they are not adequately prepared which in turn places their own health in jeopardy. A greater proportion of caregivers are caring for more than one individual while juggling work. Additionally, there is a growing number of younger caregivers.  
Some of the changing needs for programs and services that are being responded to by FCBC include:  
Calls to the Caregiver Support Line are taking longer. The average call length is now 30 minutes and there is a significantly greater volume of calls. 

More assistance is required to help caregivers navigate increasingly more complicated pathways. 
Caregiver support staff constantly monitor and update internal and online resources to meet these needs. Also, Caregiver Coaching sessions are offered to caregivers experiencing complexities that are best addressed with professional advice.  
"Having four casseroles land in my fridge in one day, although miraculous and generous, was not all that helpful" according to Art, caregiver to his wife Grace. 
This is the story of two friends in pain, as shared by Jim LaMorte with staff at Greater Victoria Caregiver Support Program:   
Art and Grace and "Grace's Circle"  
"When Grace began her two-year battle with Lymphoma cancer, her husband Art began his new career as Senior Caregiver and Chief Bottle Washer. He gradually took over many of the household chores and served as personal nurse as Grace's condition worsened. When challenged with each new decline, Art simply stepped up to do anything and everything that was required for Grace, regardless of the cost to him. 
Art and Grace faced this challenge with wisdom, courage, and love. We, their friends and family members, encountered a challenge too: how to help Art and Grace cope? What did they need? What could we offer? What help would they accept? We fumbled at first, all wanting to help so much. Our dilemma was this. While we didn't want them to go through this alone, we also wanted to respect their privacy. We hesitated to call or knock on their door. We learned that Art and Grace faced a similar conundrum. They did not want to impose on others, yet, felt their energies dwindling. Art was clearly headed for "caregiver burnout".  
No one had an inkling of how to structure the help that Art and Grace needed, but at least we had a working principle: we supporters of Art and Grace promise that we will not take on a role or engage in an activity that unduly impacts our lives. In exchange, Art and Grace promise to identify and express their needs whatever they might be.  
By great, good fortune, we discovered FCBC and the experience they offer. In the first meeting, we learned that our situation is common, and that there are tools that could help. FCBC explained that it is not unusual for friends to scatter when they hear of someone who is seriously ill or injured. We also learned about the power of sharing the caregiving activities in a Caring Circle, one that spreads the work and the joy of giving among members of a new community. It's all based on a common calendar that people reference at any time. This tool allowed us to create a new community we called "Grace's Circle". Eventually the Circle included nearly 50 members, so sharing the workload was easy. We shared meal preparation, visits, yard work, and giving Art an occasional break. Even distant friends could participate by sharing stories and photos in Grace's Circle for us all to see. Eventually, Art used Lotsa Helping Hands (This is an online tool/app that helps coordinate community support for someone in need) to keep everyone informed about the latest news, including test results and how Grace was feeling. Watching a friend or a family member suffer and being unable to relieve their pain feels like an unfamiliar level of hell. There is a persistent itch to help. With the help of the FCBC Greater Victoria Caregiver Support Program, and the tools they identified, we found a way to build a new community of care that worked".     
Currently, during COVID-19, the caregiver support group staff and volunteers feel that throughout this time of uncertainty and anxiety due to the pandemic, there is one clear message:  
"We're all in this together. It is essential that caregivers in Greater Victoria have our peer support available and can continue to connect and share emotional and practical support. Our courageous and committed volunteers took on the new challenge of utilizing Zoom technology to facilitate our new Virtual Caregiver Café in Greater Victoria. Our plan is to temporarily replace our face-to-face monthly support group with this virtual café, giving us all the chance to connect and support each other through these weekly meetings. Each volunteer has graciously donated their time to facilitate one of the Thursday meetings and to welcome their regular participants to this virtual café." 
"This is our maiden voyage with virtual support groups, and we are thrilled that new and existing participants can continue to join us by phone and online via Zoom". 
Staffing resources for the program are made up of one full-time person, one part-time person, and a number of volunteers consisting of 12 Board member; five support group facilitators; and two administrative assistants.  
Financial resources are made available by United Way of Greater Victoria and Island Health. 
Location

Greater Victoria, B.C.

Organization