BC Seniors Week Profile: Brian, 72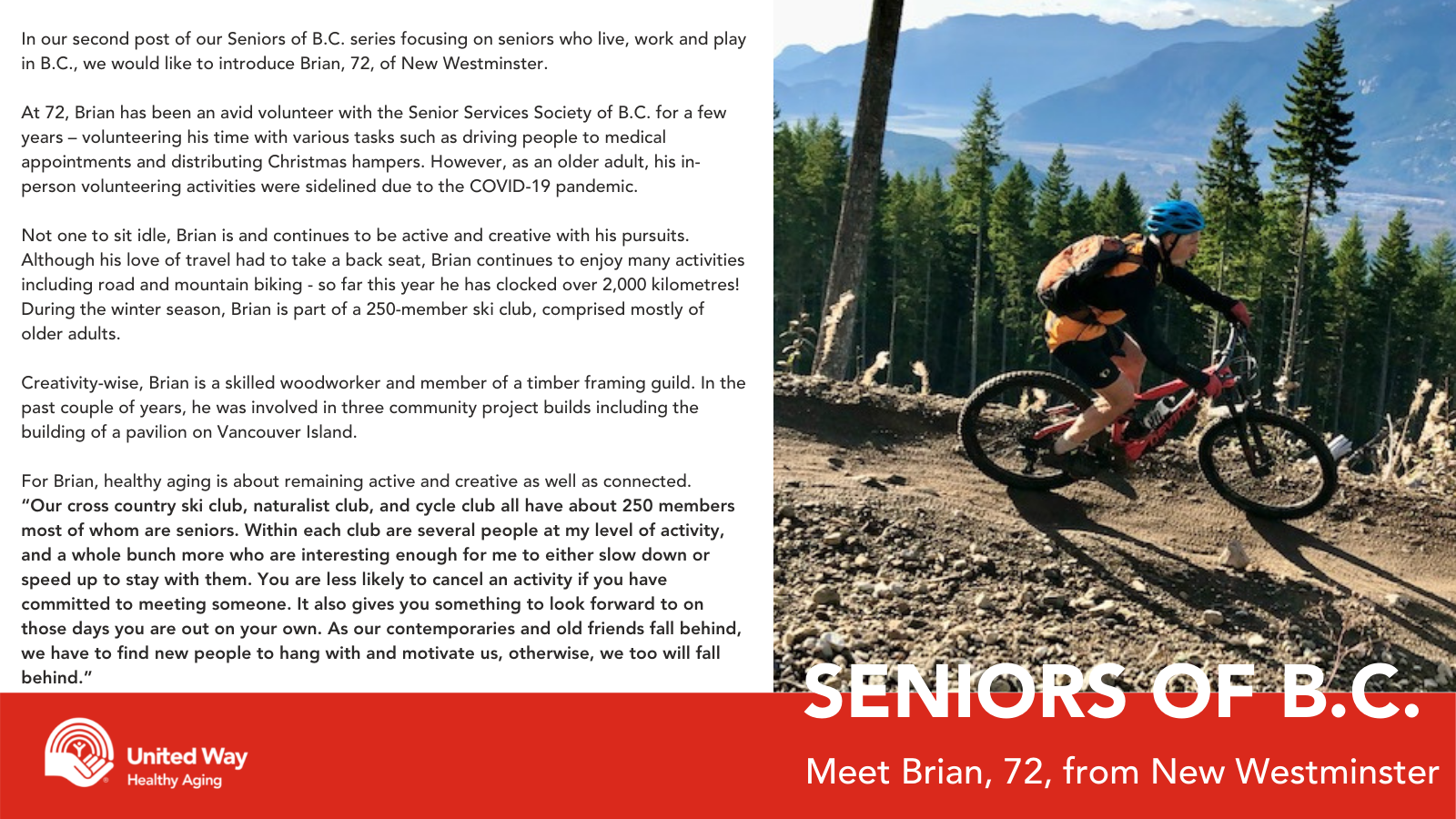 In our second post of our Seniors of BC series focusing on seniors who live, work and play in B.C., we would like to introduce Brian, 72, of New Westminster.
Brian has been an avid volunteer with the Senior Services Society of B.C. for a few years – volunteering his time with various tasks such as driving people to medical appointments and distributing Christmas hampers. However, as an older adult, his in-person volunteering activities were sidelined due to the COVID-19 pandemic.
Not one to sit idle, Brian is and continues to be active and creative with his pursuits. Although his love of travel had to take a back seat, Brian continues to enjoy many activities including road and mountain biking - so far this year he has clocked over 2,000 kilometres! During the winter season, Brian is part of a 250-member ski club, comprised mostly of older adults.
Creativity-wise, Brian is a skilled woodworker and member of a timber framing guild. In the past couple of years, he was involved in three community project builds including the building of a pavilion on Vancouver Island.
For Brian, healthy aging is about remaining active and creative as well as connected.
"Our cross country ski club, naturalist club, and cycle club all have about 250 members most of whom are seniors. Within each club are several people at my level of activity, and a whole bunch more who are interesting enough for me to either slow down or speed up to stay with them. You are less likely to cancel an activity if you have committed to meeting someone. It also gives you something to look forward to on those days you are out on your own. As our contemporaries and old friends fall behind, we have to find new people to hang with and motivate us, otherwise, we too will fall behind."
To learn more about United Way Healthy Aging, including the various programs that help older adults in B.C. be Active, Connected and Engaged, please visit https://www.uwlm.ca/your-impact/healthyaging/
By

United Way of the Lower Mainland