Social Prescribing: A holistic approach to improving the health and well-being of Canadians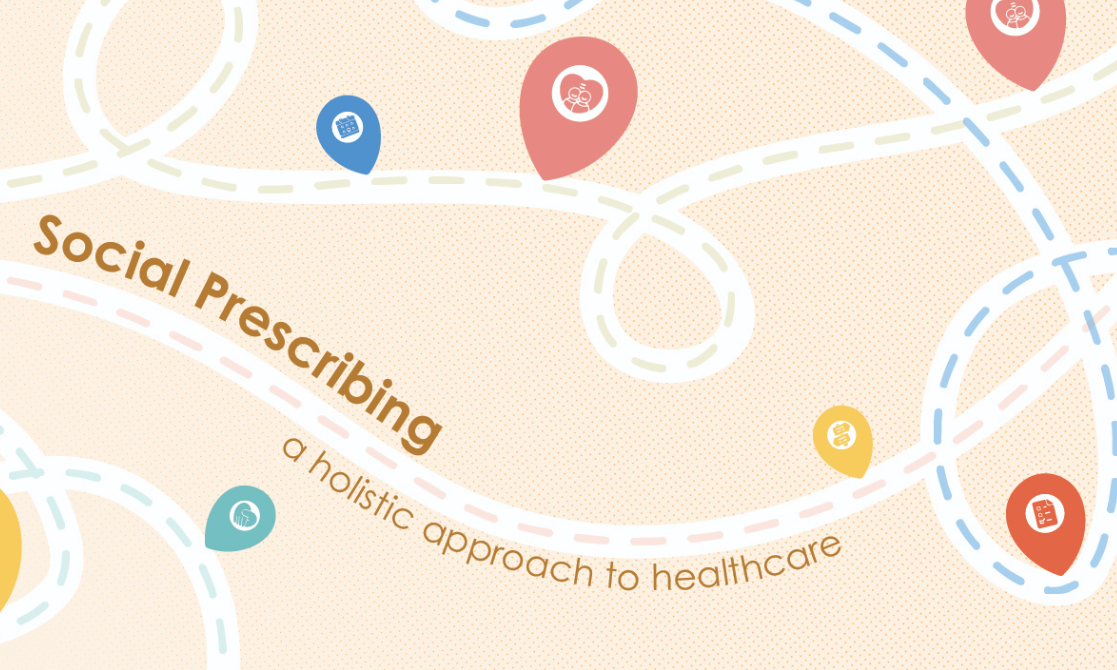 Social prescribing is a means of connecting people to a range of community services and activities to improve their health and well-being.¹ These services vary based on each person's needs and interests, and can include food subsidies, transportation, fitness classes, arts and culture engagement, educational classes, peer-run social groups, employment or debt counseling, and more. Social prescribing is a holistic approach to healthcare that looks to address the social determinants of health, which are the non-medical factors that play a role in an individual's overall health. These factors may include socioeconomic status, social inclusion, housing, and education.
Social prescribing around the world
Historically, there have been many models of care focused on connecting people to non-medical supports, but these models have only recently united under the term "social prescribing." To date, social prescribing initiatives have been implemented in 17 countries worldwide including Australia, New Zealand, and the United Kingdom.
Social prescribing as we know it today evolved from 1990s initiatives in the United Kingdom (UK). By 2016, the number of UK social prescribing pilot programs had grown significantly and prompted the development of the International Social Prescribing Network. Since then, the UK National Health Services (NHS) has incorporated social prescribing into its national model of personalized care.
The Canadian Red Cross recently received funding from the Public Health Agency of Canada to provide infrastructure for the Canadian Institute for Social Prescribing (CISP). In collaboration with multi-sectoral stakeholders, CISP has begun a two-year project to create a national framework for social prescribing. As the initial phase of this project, Bridgeable was tasked with understanding the current state of social prescribing in Canada.
Defining the current state of social prescribing in Canada
To understand the current state of social prescribing in Canada, we undertook a series of research tasks, including desk research, intercept interviews with the public and in-depth interviews with social prescribing experts across the country (BC, AB, and ON). The experts we interviewed self-identified as social prescribing practitioners and are connected to CISP or the Canadian Social Prescribing Community of Practice.
Gauging public perception
We conducted 25 public intercept interviews at three key locations in the Greater Toronto Area, selected based on neighbourhood equity rankings published by Social Policy and Analysis Research at the City of Toronto. We wanted to understand how people perceived their own health and wellness priorities, and gauge their initial response to the idea of social prescribing.
Our questions revealed that individuals initially thought of their health and well-being in connection with their physical health. Upon further probing, most interviewees revealed that they also had social factors in their lives that impacted their physical and mental health. The majority of interviewees believed that a social prescribing approach could improve their health and well-being. Some concerns we uncovered from the public included limited access to time with a healthcare provider, lack of funding for social programs, and barriers to access that might prevent them from taking advantage of available services (e.g., financial, transportation, etc.).
Speaking with social prescribing experts
We took our public perception findings into the next step of our research, where we conducted interviews with ten experts working in social prescribing settings across Canada. Our aim was to understand the current state of social prescribing in various regions across the country, with a focus on service delivery models, methods of implementation and evaluation.
Through these interviews we learned that the landscape and delivery of social prescribing in Canada is diverse. Currently, only a few programs are using the term "social prescribing", but many are using a social prescribing approach for their work. Across the country there are programs, services and initiatives that focus on connecting individuals to non-clinical supports that provide a person-centred approach to improving their health and well-being.
Some of these initiatives are seniors-focused and housed in senior citizens' organizations, while others target specific vulnerable populations such as newcomers, racialized individuals, LGBTQ2IA+ individuals, or those with mental health challenges, and operate through Community Health Centres (CHCs). Others emerged as a result of the COVID-19 pandemic, or exist as resource hubs such as a 211 community and social services database.
Commonalities across social prescribing initiatives
Our research led us to identify commonalities across social prescribing initiatives. We found an emphasis on:
Collaboration and partnership-building between primary care and community services;
Flexibility and agility in program offerings. Low-barrier services are key to providing clients with the support they need;
Measuring impact. Many of these initiatives capture quantitative data to measure impact at a local level. However, measuring social prescribing benefits at a population health level, and gathering qualitative data on the less tangible benefits of social prescribing remains a challenge.
Link workers
The final common element we found was the presence of a "link worker" (also known as a community connector, navigator, social worker, seniors connector, etc.). Link workers assess client needs, create care plans, and connect clients with community resources. They may be volunteers or staff in other roles who also took on the responsibilities of a link worker.
Some initiatives had a dedicated link worker role where funding was available. Many experts we spoke with expressed that their social prescribing initiative would benefit from a dedicated link worker.
Mapping the referral pathway
Our experts walked us through their service delivery models step by step. We compared these models and created a high-level overview of the social prescribing pathway from the perspective of the client.
We learned that the social prescribing pathways varied but each had five general stages:
Client entry into the referral pathway; with entry points including primary care, social services, or self-referral.
Connection to an intake worker, where the client's needs are assessed and they co-create a care plan that may include a referral to resources.
Attendance to a social prescription program or service, when the client engages with services and activities that improve their health and wellbeing.
Follow-up from a dedicated individual to reassess the client's care plan.
Exit from the pathway through a warm hand-off and opportunity for re-entry as needed. At this point the client no longer needs the prescribed services or resources, or is able to access them autonomously.
Using this information, we visually mapped this process from the perspective of the client, including the various settings and key actors involved in each stage.
Key findings
From our expert interviews, the Bridgeable team found six key insights on the current state of social prescribing in Canada. These insights will inform the next phase of this project and support the development of a national framework for social prescribing in Canada. The insights we uncovered are:
Adapting to client needs through community partnerships.
Partnerships between community organizations lead to innovative solutions to address complex client needs. Each client requires a unique approach and follow-up routine. Community collaboration can create greater adaptability when addressing the needs and desires of each client;
Formalizing partnerships to advance policy and funding.
Integrated care networks that involve primary care, social services, and the community result in pooled resources and greater leverage for policy change. Formalized partnerships have been established within some social prescribing initiatives in British Columbia, Alberta, and Ontario, but require further development across the country;
Communicating the value of social prescribing.
Social prescribing has a positive impact on the healthcare system by reducing the burden on acute care services. Connecting individuals to preventive care lightens the workload for healthcare providers. Communicating these benefits to stakeholders is crucial to increase support for social prescribing initiatives;
Collaborating to increase buy-in.
Collaboration between health care providers and community organizations contributes to efficiency of service-delivery, and increased service-provider job satisfaction. Showcasing this type of successful collaboration and its impacts is an effective way to increase buy-in from other healthcare providers, community partners, and policy makers;
Expanding data collection and impact measurement.
Client data collection is crucial for case management and follow-up with healthcare providers and social prescribing teams. It is also necessary for impact measurement, which can be difficult to measure. Impact measurement and formalized qualitative data collection will be key to capturing a complete picture of program success;
Leveraging link workers to reduce burden on the healthcare system.
Link workers can reduce the burden on the limited capacity of primary and acute care services. These community connectors help clients access social services, promote patient advocacy, and provide emotional support throughout the social prescribing process. It is important to understand the diversity of formal and informal link workers that may be leveraged to support social prescribing.
Bridgeable will continue to partner with CISP and the Canadian Social Prescribing Community of Practice to co-create the ideal building blocks for developing a national social prescribing framework. Follow this project work on Bridgeable's LinkedIn and Twitter, and CISP's social media channels.
References
1 —"A Toolkit on How to Implement Social Prescribing." World Health Organization, World Health Organization, https://www.who.int/publications/i/item/9789290619765.